---
---
---
---
---
THE HELIOS COLLECTIVE
[En] Through the visit to the Mobilier national workshops, it was noticed in the object creation process that the color and material choices has been done according to light, in order to reduce its distorting impact on the objects. Thus, from this observation was born the beginning of research on the ambivalent relation between light, color, time.



[Fr] À travers la visite des ateliers du Mobilier national, il a été remarqué dans le processus de création des objets, que les choix de couleurs et de matières étaient faits en fonction de la lumière afin de réduire son impact dénaturant sur les objets. De ce constat naît alors le début des recherches sur la relation ambivalente entre lumière, couleur et temps.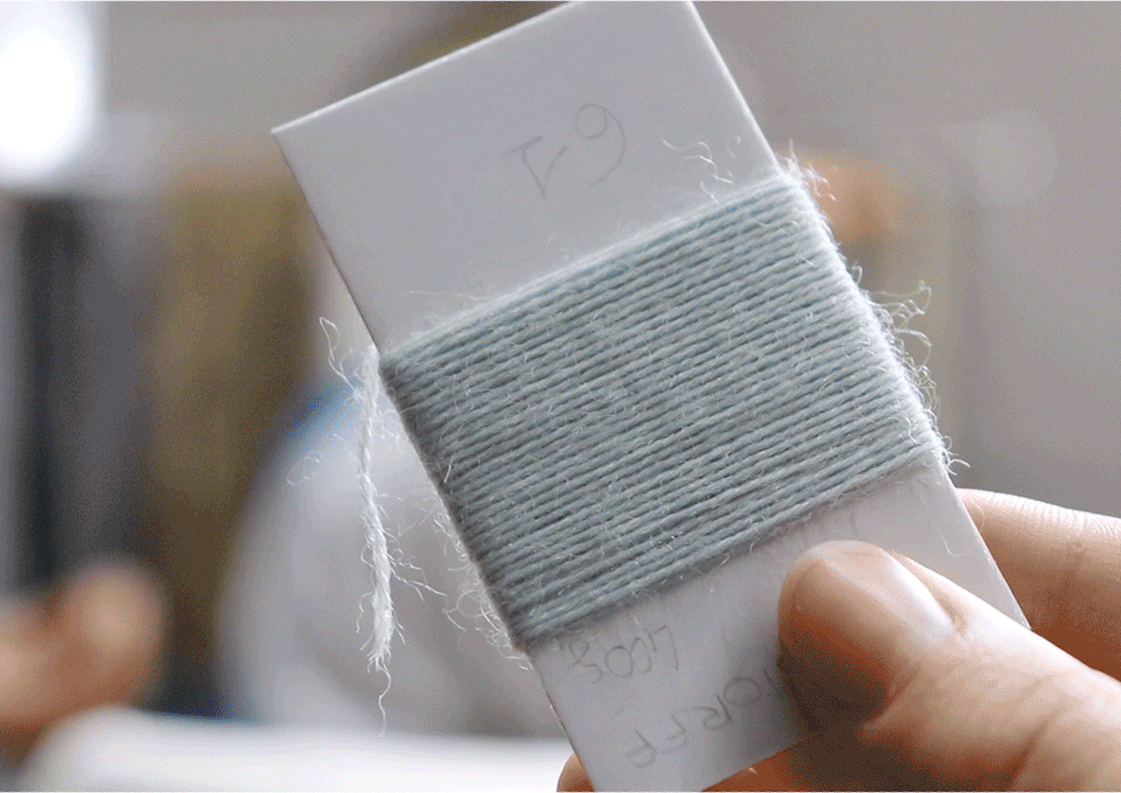 ---
IN PRAISE OF BLANDNESS
[En] The research subject, anchored in the place, has been the bearer of a specific discovery to the manufacture: the fadeometer. This is a device used to assess the stability of a color when exposed to light. The concept of blandness, which already emerged in the reflection, then is embodied by this instrument.

According to In Praise of Blandness, from the philosopher François Jullien, « Blandness symbolizes a certain balance, an intermediate moment, a transitional stage always under threat, the sensitive expression of harmony, an open state to transformation. »



[Fr] Le sujet de recherche ancré dans le lieu a été porteur d'une découverte propre à la manufacture : le fadéomètre. Il s'agit d'un appareil servant à évaluer la tenue d'une couleur exposée à la lumière. Le concept de fade qui été déjà émergeant dans la réflexion s'est alors incarné par l'outil.

D'après le philosophe François Jullien, Éloge de la fadeur  : « La fadeur symbolise une certaine balance, un moment intermédiaire, un stage transitoire menacé, c'est l'expression de l'harmonie et un état ouvert à la transformation. »



---
THE HALO DEVICES
[En] What if, failing to alter, the light reveals the passage of time on the objects ?
By making the hostility of light on colors, an asset in the creation process, the design project is part of a sustainability approach by proposing a conception of alteration as an improvement of object over time. In addition, it was chosen not to limit the research to doing a colorimetric work by adding volume to the bland notion in order to manipulate it.
[Fr] Et si à défaut d'altérer, la lumière révélait le passage du temps sur les objets ?
En faisant de l'hostilité de la lumière face aux couleurs, un atout dans le processus de création, nous inscrivons le projet dans une démarche de durabilité, en proposant une conception de l'altération comme valeur de bonification de l'objet dans le temps. Nous avons aussi choisi de ne pas nous contenter d'un travail colorimétrique en mettant en volume la notion de fade pour la manipuler.


---
THE PLATEAU REVIEW
[En] The Plateau review transcribes on paper our experience in residence at the Mobilier national. Through multiple projects and meetings, we have explored the facets of the relationship between design and the notion of hospitality, in a most hostile health context. Thus, it questions our relationship with others, places, matter and time, which is turned upside down.



[Fr] Le magazine Plateau retranscrit sur papier notre expérience en résidence au Mobilier national. A travers de multiples projets et rencontres, nous avons exploré les facettes du rapport entre le design et la notion d'hospitalité, dans un contexte sanitaire des plus hostiles. Il questionne ainsi notre rapport aux autres, aux lieux, à la matière et au temps, qui se voit chamboulé, restreint.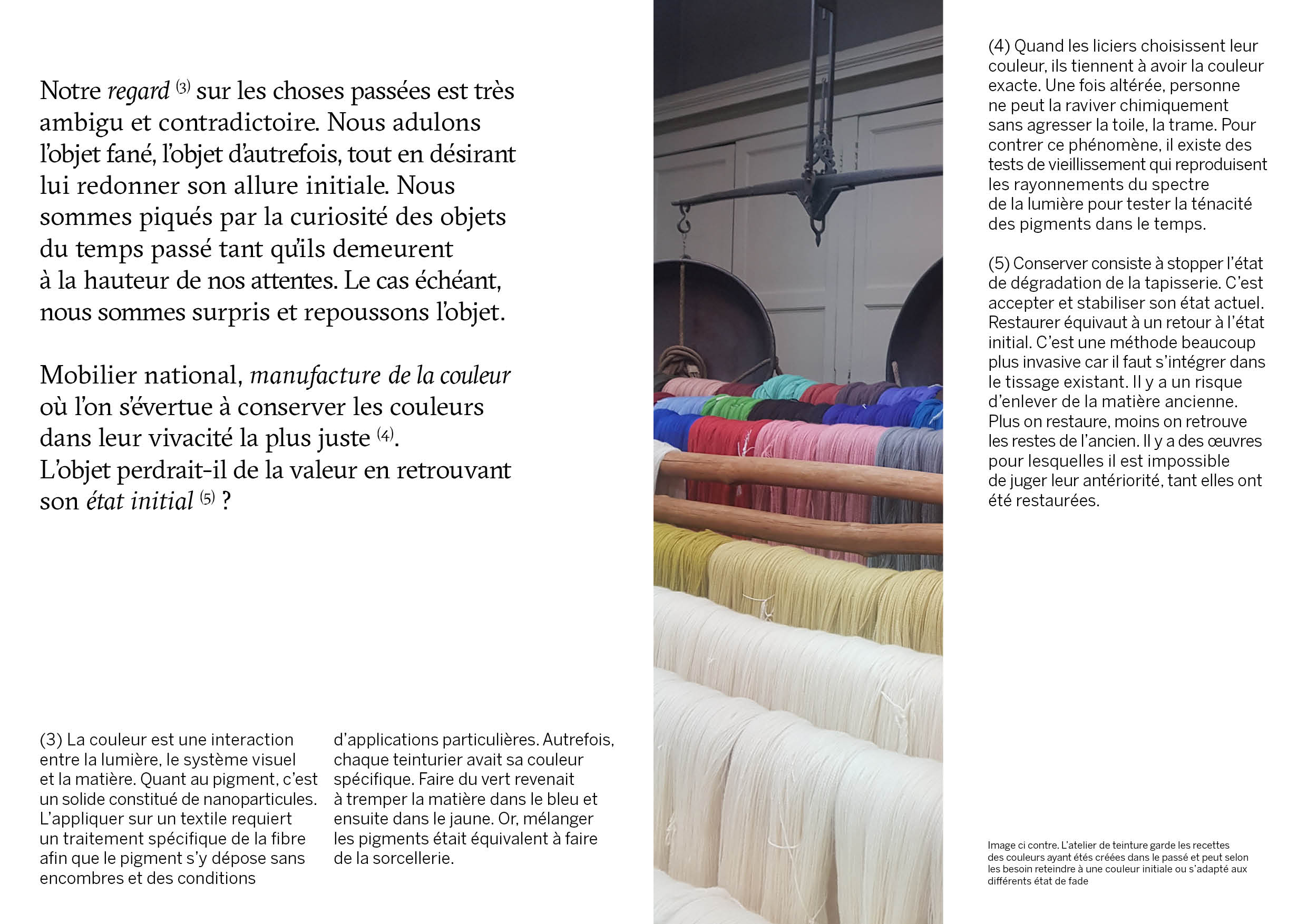 ---
︎
ACKNOWLEDGEMENTS
Thanks to: Willina Sossou, Eloïse Ravet, Léontine Pigot. Thanks to the pedagogical team: Jean-Chrsitophe Valleran, Caroline Bougourd, Isabelle Mehling-Sinclair, Clémence Mergy, Antoine Fermey, Raphaël Lefeuvre. Thanks to their expertise: Isabelle Da Lage, Mobilier national — Sylvie Heurtaux, N.I.M.E.S, Mobilier national — Inès Mangin, restoration workshop, Mobilier national— Sylvie Cikalleshi, dyeing workshop, Mobilier national — Sophie Dion et Marion Moinier, Atelier Lognon — Aurélia Wolff, Atelier Whole, specialized in textile and natural dyeing — Marc Port, professor at Cnam in "Chemical and pharmaceutical industries"— Severine Bascouert, Screen printing/sublimation workshop, Ecole Duperré — Kévin Dubert, director of photography